Mid-Size Sedan Matchup: 2019 Kia Optima vs Honda Accord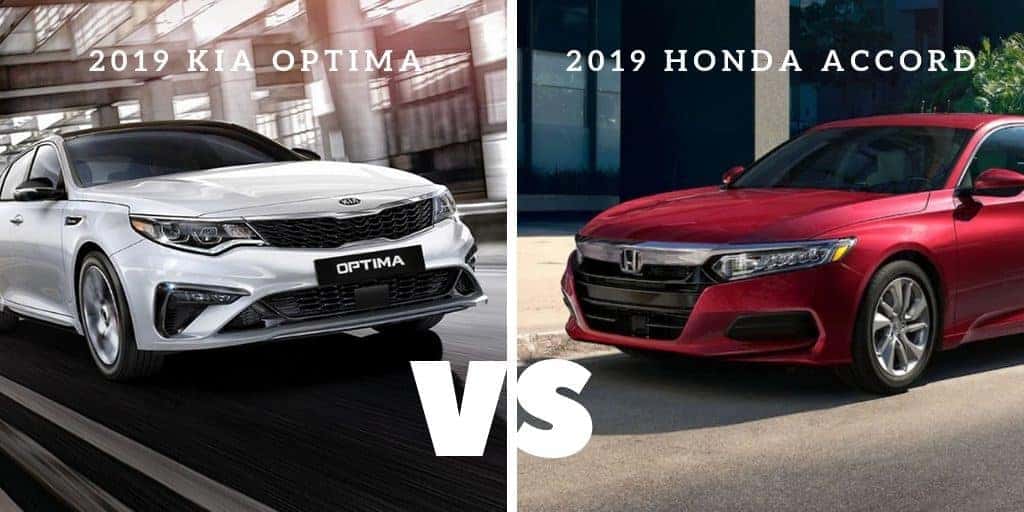 For quite some time now, the Honda Accord has ranked at near the top of the mid-size sedan class with a cult-like following. Even so, the new 2019 Kia Optima is packed with value and offers drivers more in the areas that truly the matter the most.
However, how does the 2019 Optima stand up to the Honda Accord. Let's take a closer look at the epic mid-size sedan matchup between the 2019 Kia Optima vs Honda Accord to see if the Optima is the giant-killing dark horse of the segment.

Mid-Size Sedan Performance: 2019 Kia Optima vs Honda Accord
Traditionally, the mid-size sedan segment has been plagued by underperforming four-cylinder engines, and the Honda Accord EX-L doesn't stray too far from this stigma. In fact, the Accord is powered by underwhelming 1.5L Turbo I4 engine that produces a mere 192 HP and up to 192 lb.-ft. of torque.
In contrast, the Kia Optima SX boasts the ability to deliver excitement and performance at every turn. The Kia Optima is powered by a masterful 2.0L Turbocharged DOHC I4 engine that delivers a blistering 245 HP and up to 260 lb.-ft. of torque to smoke the Honda.
Interior: Honda Accord vs 2019 Kia Optima
One of the most critical selling points of the Honda Accord has always been its impressive 42.3 inches of front legroom. However, the Kia Optima dwarfs this number by offering even more front legroom at 45.5 inches. In addition to more legroom, you'll enjoy much more standard equipment and features in the interior.
For instance, all trims of the Kia Optima come with a total of 6 speakers and standard Apple CarPlay and Android Auto on all trims. These two connectivity features allow you to connect a compatible smartphone to your infotainment screen to provide hands-free access to music, apps, podcasts, and much more.
In contrast, the Honda Accord only offers a standard four speakers and optional Apple CarPlay and Android Auto on higher, more expensive trims. If you step up to higher trims on the Optima, you'll be able to access an exclusive 360-degree parking camera that makes it easier than ever to maneuver in the tightest spots. Regardless of the Accord trim you choose, you'll only have access to a standard backup camera. In addition, the Accord doesn't offer anything comparable to the Optima's hands-free smart trunk.
Safety Features: 2019 Kia Optima vs 2019 Honda Accord
Simply put, the suite of safety features on the Optima is second to none, which begins to explain why this mid-size sedan received the best Top Safety Pick + honors from IIHS. Because there are too many features to list, some of our most favorite advanced safety features on the Optima include:
• Parking assistance to help you navigate busy parking lots
• Forward collision avoidance assist
• Driver drowsiness monitoring
• Lane change and keep assist
• And more
While the Honda Accord does offer valuable safety tech, standard blind-spot monitoring with cross-traffic detection gives the Optima a clear and distinctive advantage. This cutting-edge advanced driving aid helps you detect items and objects you may not see.
Contact Ed Voyles Kia of Smyrna for the New 2019 Kia Optima
While the Honda Accord may have the more recognizable name, this is where its advantages end. The new 2019 Kia Optima offers you more space, more safety equipment, more interior features, and more value! Simply put, why would you pay more for less? If you haven't experienced the new 2019 Kia Optima, now is the perfect time to contact Ed Voyles Kia of Smyrna today.