2019 Kia Forte Vs. Chevrolet Cruze comparison from Ed Voyles Kia in Smyrna, GA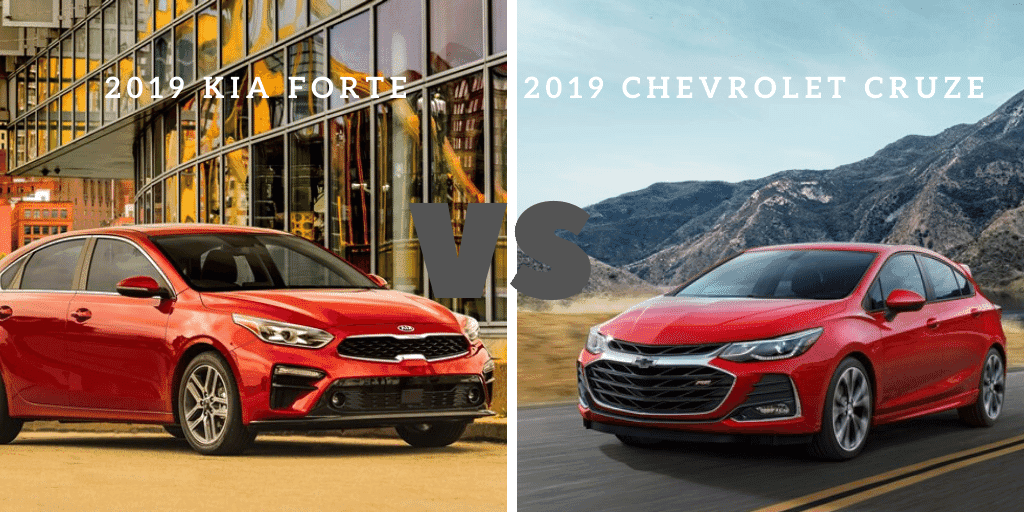 No matter what side you take for the crossover vs. sedan debate, everyone can agree that the 2019 Kia Forte just stepped into a class all of its own. Following a complete redesign, this sedan now boasts the latest and most user-friendly technology, spacious interior, and award-winning safety features. The new Kia Forte draws inspiration from the Kia Stinger, making its appearance sportier and sleeker. Earning its spot in the compact car competition, the Kia Forte stacks up nicely against competitors such as the 2019 Chevrolet Cruze.
| | | |
| --- | --- | --- |
| 2019 Kia Forte | Vs. | 2019 Chevrolet Cruze |
| Gas | Powertrain Variants | Gas |
| 42.2 in | Front-seat legroom | 42.0 in |
| 38.8 in | Front-seat headroom | 38.9 in |
| 15.2 cubic feet | Trunk Space | 13.9 – 22.7 cubic feet depending on trim level |
| Standard/Standard | Apple CarPlay/Android Auto integration | Standard/Standard |
| Standard | Lumbar support | Not available |
| Standard | Rear folding seats | Standard |
| 16" Polished Alloy Wheels | Base Wheels | 15" Steel Wheels |
| UVO 8-inch touchscreen | Standard infotainment unit | 7-inch touchscreen |
| 5 yr./60,000 mi | Engine/powertrain warranty | 3 yr./ 36,000 mi |
| $17,790 | MSRP starts at | $17,995 |
Stylish looks bundled with advanced features makes the 2019 Kia Forte a standout from the competition.
The 2019 Kia Forte brings exceptional features to the small sedan class. It's efficient, roomy, and full of the latest technologies and innovations that manufacturers tend to only offer with their top sellers or luxury lines. Ranking as one of the best values in its class, consumers can be confident that they are getting the most bang for their buck.
Standard features include:
Infotainment technology
Touch-screen system
Android Auto and/or Apple CarPlay
Active safety features
Lane keep assist
Automatic emergency braking
Driver attention monitoring
Although the 2019 Chevrolet Cruze makes a viable effort to compete with the all-new 2019 Kia Forte, it falls short in leveling with the incredible features that Kia has manufactured in the redesign. The 2019 Kia Forte outranked the 2019 Chevy Cruze in multiple categories, including overall starting price point and standard features. The compact car that was once viewed as a commuter vehicle is stepping out and stepping up; don't be surprised if you see a Forte making a red-carpet appearance.
Kia is offering four trim levels for consumers to choose from; FE, LXS, S, and EX with endless customization options. Gone are the days where every car is the same; make it your own and make it reflect your uniqueness.
Your New Kia Forte Is Waiting For You Today at Ed Voyles Kia of Smyrna
At Ed Voyles Kia, we have Smyrna's largest selection of new Kia Forte models as well as the best prices in the region. Our experienced and knowledgeable staff is ready to assist you in getting behind the wheel of a new car! Whether you are a first-time buyer or a seasoned veteran, our team welcomes you to join the Ed Voyles Kia family!
If you're looking for a small car that never feels like a small car, we'd love to help! Contact us today to schedule a test drive (678) 374-1830.