Why Kia is Better than Honda and Toyota?
Kia is ranked #1 over Honda & Toyota and we are here to tell you why at Ed Voyles Kia of Smyrna on Cobb Parkway. Read information about each of our Kia Models then scroll down to read how they stack up against the competition. If you like what you read, shop our inventory using the buttons below or call us to schedule a test drive.
The newly redesigned 2019 Forte is a compact that packs a big punch — with performance improvements, the latest technology innovations, and sleek styling. See how the Forte's spirit breaks the rules, so you can rule the road.
Innovation can be a handful. That's why the all-new 2019 Forte packs an available Smart Trunk™, so you don't have to wave your hands or balance on one foot. All you need to do is stand there with the Smart Key and voila.
True power means being untethered from rules and convention. It means charging ahead with no strings attached. Now you can charge up as you charge your own road with available wireless charging in the all-new 2019 Kia Forte EX Launch Edition. See it in action, and hold on for the ride.
The all-new 2019 Forte is a compact that packs in the innovation. With new technology like the big 8″ touch-screen that comes standard in every Forte, the world is at your fingertips and easier to command than ever. Reach out and see for yourself.
Optima's new sportier styling for 2019 is punctuated at every corner with striking, front and rear fascia, complementing Kia's signature tiger-nose grille. The iconic Optima has an undeniable style that commands attention on the road.
The Optima SX exterior touches are distinctive. The bold gloss black rear spoiler, outside mirrors, and side sills add character and personality. While 18" gloss black and machined finish wheels make a statement. With so many unique design details, the Optima SX is just as appealing to look at, as it is to drive.
The available Smart Welcome assists by detecting your Smart Key and automatically unfolding the outside mirrors and turning on the Optima door pocket lights—for easy entry when it's dark. Then just stand behind the Optima with your Smart Key and the Smart Trunk opens automatically.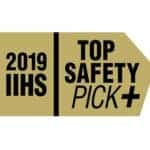 2019 Kia Optima earns 2019 IIHS Top Safety Pick+ when equipped with LED headlights.
To qualify for 2019 TOP SAFETY PICK+, a vehicle must earn good ratings in the driver-side small overlap front, passenger-side small overlap front, moderate overlap front, side, roof strength, and head restraint tests. It also must earn an advanced or superior rating for front crash prevention and a good headlight rating.
Drive outside of the box in a modern compact crossover that defies conventions with an elegant, extroverted exterior distinguished by sweeping curves, sleek lines, and thoroughly contemporary features. Designed for the bold, the 2020 Sportage captivates the eye and inspires a sense of adventure with its dynamic styling.
The Sportage sets its own aesthetic standards for the compact crossover. Its striking tiger-nose grille, elegant side contours, prominent wheel arches, coupe-like roof, and satin silver touches achieve a precise balance between luxurious sophistication and dynamic sportiness.
Upgraded and unforgettable, the striking good looks of the Sportage begin with its front end. Elongated headlights sweep back gracefully into the body, perched above a distinctive tiger-nose grille and available LED front fog lights that help illuminate adventure.
The sporty, bold character of the Sportage expresses itself to the very end, culminating in the dashing, sculpted lines of the rear exterior.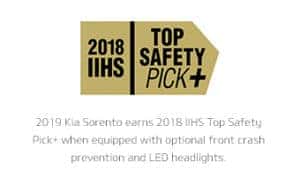 The 2019 Sorento upgrades standard utility with optimal versatility to fit any lifestyle, whether in-town or off-road. The exterior facelift adds sleek, sculpted lines to its bold wide stance, while newly available LED headlights to illuminate your drive with a modern touch to match its personality. Best of all, with standard 3-row, 7-person seating, you can comfortably fit even more friends on your road to adventure.
Whether you're shopping in town, or camping out, the 2019 Sorento makes extra room for fun and adventure with its standard 7-person seating and a flexible, spacious interior that adapts to your needs. Second-row sliding seats give rear passengers easy third-row access, while standard Remote Release lets you conveniently fold down the second row while standing at the rear of the vehicle to expand space as you pack in your cargo.
Get a helping hand next time you load up. Intuitive and automatic, the available hands-free Smart Power Liftgate™ opens when it senses your smart key—with no hands or feet required. And the liftgate can be adjusted to your height preference, making closing the hatch even easier for you, and easier on the ceiling of your garage.
Kia Forte vs the Competition

| 2019 Kia Forte | Vs. | 2018 Honda Civic |
| --- | --- | --- |
| 35 MPG (est. LX) | Combined fuel economy | 32 MPG (LX) |
| 8-inch touchscreen | Standard infotainment screen | 5-inch color screen |
| Standard | Apple CarPlay/Android Auto? | Available |
| 15.3 cubic feet | Cargo volume | 15.1 cubic feet |
| Standard | Dual-zone automatic climate control? | Available |
| 5 years / 60,000 miles | Bumper-to-bumper warranty | 3 years / 36,000 miles |
| 10 years / 100,000 miles | Engine warranty | 5 years / 60,000 miles |
| Kia – Yes. Four years running | J.D. Power Initial Quality Study mass-market leader? | Honda – No |
| $15,905 | Starts at | $18,940 |

| 2019 Kia Forte | Vs. | 2019 Toyota Corolla |
| --- | --- | --- |
| 2.0L MPI 4-cylinder | Standard engine | 1.8L 4-cylinder |
| 147 horsepower @ 6,200 rpm | Standard horsepower | 132 horsepower @ 6,000 rpm |
| 35 combined MPG – projected | Combined MPG | 34 combined MPG – maximum |
| 39.3 inches/37.5 inches | Headroom (front row/rear) | 38.3 inches/37.1 inches |
| 8 inches | Standard infotainment screen | 6 inches |
| Standard/Standard | Apple CarPlay/Android Auto | Available/Not available |
| 15.1 cubic feet | Trunk space | 13.0 cubic feet |
| Yes | 2018 IIHS Top Safety Pick leader? | No |
| Yes – four years running | 2018 JD Power mass-market initial quality leader? | No |
| 5 years / 60,000 miles | Limited bumper-to-bumper warranty | 3 years / 36,000 miles |
Kia Optima vs the Competition

| 2019 Kia Optima | Vs. | 2018 Toyota Camry |
| --- | --- | --- |
| 3 | Engine options | 2 |
| Yes | Available dual-clutch transmission? | No |
| 18.5 gallons | Fuel tank size | 14.5 gallons |
| 45.5 inches | Front-row legroom | 42.1 inches |
| 15.9 cubic feet | Trunk size | 14.1 cubic feet |
| Yes – Standard | Apple CarPlay/Android Auto compatible? | No |
| Yes – ADAS | Standard active safety? | Yes – Toyota Safety Sense |
| Yes – Four years running | J.D. Power Initial Quality Study #1 non-luxury brand? | No |
| 5 years / 60,000 miles | Bumper-to-bumper limited warranty | 3 years / 36,000 miles |

| 2019 Kia Optima | Vs. | 2019 Honda Accord |
| --- | --- | --- |
| 3 | Engine options | 2 |
| 6-speed automatic | Standard transmission | CVT |
| Standard | Apple CarPlay/Android Auto integration | Available |
| 45.5 inches | Front-row legroom | 42.3 inches |
| 6 speakers | Standard audio system | 4 speakers |
| Top Safety Pick + (Best) | IIHS safety designation | Top Safety Pick (Good) |
| 10 years / 100,000 miles | Engine (powertrain warranty) | 5 years / 60,000 miles |
| 5 years / 60,000 miles | Bumper-to-bumper warranty | 3 years / 36,000 miles |
| $19,250 | Starts at | $23,720 |
Kia Sportage vs the Competition

| 2019 Kia Sportage | Vs. | 2018 Toyota RAV4 |
| --- | --- | --- |
| 2 | Engine options | 1 |
| 181 horsepower (2.4L engine) | Standard horsepower | 176 horsepower (2.5L engine) |
| 240 horsepower (2.0L turbo) | Available horsepower | N/A |
| 38.2 inches | Second-row legroom | 37.2 inches |
| Yes – standard on EX and SX | Apple CarPlay/Android Auto compatible? | No – not available on any RAV4 |
| Yes – four years running | J.D. Power mass-market initial quality leader? | No |
| 5 years / 60,000 miles | Bumper-to-bumper warranty | 3 years / 36,000 miles |
| $21,880 | Starts at | $24,660 |

| 2020 Kia Sportage | Vs. | 2019 Honda CR-V |
| --- | --- | --- |
| 2 | Engine options | 2 |
| 240 horsepower (2.0L turbo) | Maximum horsepower | 190 horsepower (1.5L turbo) |
| 2,000 lbs. | Base towing capacity | 1,500 lbs. |
| 41.5 inches | Front-row legroom | 41.3 inches |
| 10 years/100,000 miles | Limited engine/powertrain warranty | 5 years/60,000 miles |
Kia Sorento vs the Competition


Sorento vs More Competitors…
| 2019 Kia Sorento | Vs. | 2019 Honda Pilot |
| --- | --- | --- |
| 2 | Engine options | 1 |
| 290 horsepower | V6 Horsepower | 280 horsepower |
| Standard | Apple CarPlay/Android Auto? | Available |
| 18.6 feet | Turning radius (lower = sharper turns) | 19.7 feet |
| 2,000 lbs. | Base model towing capacity | 1,500 lbs. |
| 44.1 inches/39.4 inches | Legroom (first row/second row) | 40.9 inches/38.4 inches |
| Yes – Top Safety Pick + | IIHS Top Safety Pick? | Not yet tested |
| 5 years/60,000 miles | Limited bumper-to-bumper warranty | 3 years/36,000 miles |
| $25,990 | Starting price | $31,450 |

| 2018 Kia Sorento | Vs. | 2018 Toyota RAV4 |
| --- | --- | --- |
| 7 passengers | Maximum seating | 5 passengers |
| 3 | Engine options | 1 |
| 290 horsepower (3.3L V6) | Maximum horsepower | 176 horsepower (2.5L 4-cylinder) |
| 5,000 lbs. (V6 models) | Maximum towing capacity | 3,500 lbs. (Adventure trim) |
| 109.4 inches | Wheelbase (longer = smoother ride) | 104.7 inches |
| 44.1 inches / 39.4 inches | Legroom (first row / second row) | 42.6 inches / 37.2 inches |
| Yes | Apple CarPlay / Android Auto compatible? | No |
| 17" alloy | Standard wheels | 17" steel and hubcaps |
| 40-20-40 folding | Standard second-row seats | 60-40 folding |
| 5 stars | NHTSA overall crash rating | 4 stars |
| 5 years / 60,000 miles | Limited bumper-to-bumper warranty | 3 years / 36,000 miles |
| 10 years / 100,000 miles | Engine warranty | 5 years / 60,000 miles |
| $18,220 | Starts at | $24,660 |

| 2019 Kia Sorento | Vs. | 2019 Toyota Highlander |
| --- | --- | --- |
| 2 | Engine options | 2 |
| Standard on all trim levels | Apple CarPlay/Android Auto compatibility | Not available on any trim level |
| 2,000 lbs. | Base towing capacity | 1,500 lbs. |
| 39.4 inches | Second-row legroom | 38.4 inches |
| 5 years/60,000 miles | Bumper-to-bumper warranty | 3 years/36,000 miles |
| $20,950 | Starts at | $32,425 |
Schedule a Test Drive