Teen-Friendly Kia Forte & Kia Soul at Ed Voyles Kia Smyrna, GA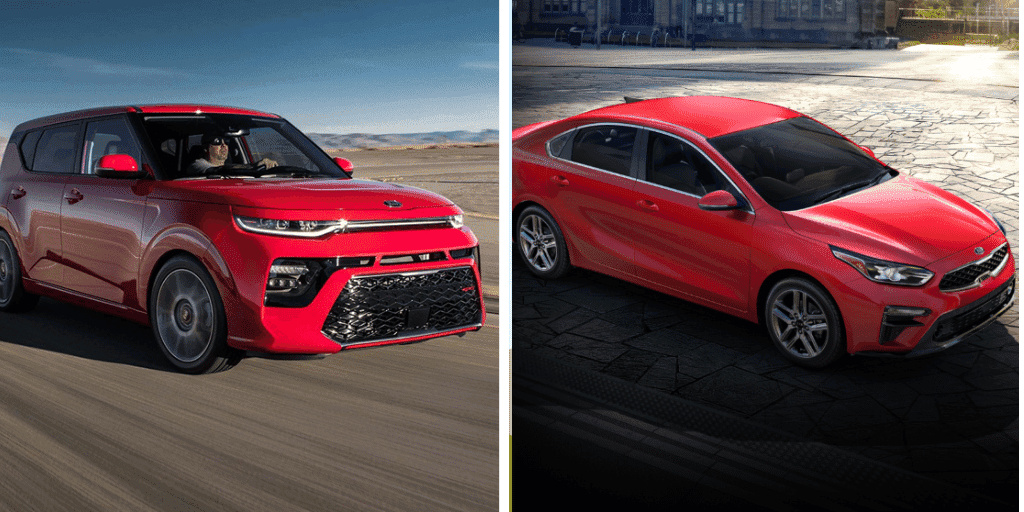 Can you guess which vehicles have been picked as "Best Car and SUV for Teens $25K to $30K" by the prestigious US News & World Reports Best Cars Research Team?
If you guessed the 2019 Kia Forte for Best Car for Teens and the 2020 Kia Soul for Best SUV for Teens, you'd be right!
Surprised?
At Ed Voyles Kia in Smyrna, Georgia we're not surprised. In fact, we've been endorsing these teen-friendly rides since they've arrived at our dealerships in Cobb County, specifically our Smyrna and Marietta locations.
And what makes these Kia vehicles tops for teens?
Teen-Friendly 2019 Kia Forte & 2020 Kia Soul Help Protect Teens and Help Save Their Lives
First, you have to understand that automobile accidents are the leading cause of death among teenagers. Therefore, the Insurance Institute for Highway Safety (IIHS) safety rating for a vehicle is an important factor. Also, the technologies available to alert drivers to potential hazards and those which actively intervene to lower the probability of an accident occurring, or avoid an accident altogether, are important factors. In addition, high reliability and high ratings in the automotive press are considered.
2019 Kia Forte Wins Best Car for Teens $25K to $30K US News & World Reports
For the 2019 Kia Forte, the IIHS gave its highest safety rating of "Top Safety Pick+". There is no higher rating for crash safety given by the IIHS.
Besides receiving the IIHS top safety rating, the 2019 Kia Forte provides many crash avoidance technologies to help teens steer clear of auto accidents. The Kia Forte includes automatic emergency braking and forward-collision warning, along with lane keep assist and lane departure warning as standard equipment. No extra charge for these potentially life saving features.
The 2019 Forte does offer more safety technologies and systems as options for an additional cost. These are rear cross-traffic alert and blind-spot monitoring, pedestrian detection and reverse parking sensors, automatic high beams and adaptive cruise control. All of these technologies can dramatically reduce the occurrence of an accident, or actively intervene to avoid an accident. This is great for teen driver safety, as well as teen parents' peace of mind.
When considering long-term reliability, J.D. Power gave the 2019 Kia Forte an above-average reliability rating.
US News & World Reports Awards 2020 Kia Soul Best SUV for Teens $25K to $30K
The 2020 Kia Soul, like its older Forte sibling, has earned the IIHS highest safety rating of "Top Safety Pick+". The Soul also comes with many standard safety and crash avoidance technologies, and also offers more safety and accident avoidance options at an additional price.
In addition to crash avoidance technologies, Kia provides parents a way to make sure their teen is not violating rules for driving they have agreed to. Kia does this through a smartphone app called UVO, which surprisingly stands for Your Voice. Anyway, parents will get a phone alert if their driving teen goes over the speed limit, travels further than a geographic boundary set by their parents, or are out later than their curfew. The Kia UVO app is also available for the 2019 Kia Forte.
So, when it's time to empower your teen with a vehicle that will protect them and significantly reduce their chances for involvement in an accident, remember that two Kia vehicles are tops for teens. The 2019 Kia Forte and 2020 Kia Soul have won US News & World Reports Best New Car and for Teens $25K to $30K.
And the dealer with the largest selection of these teen-friendly Kia vehicles is Ed Voyles Kia of Smyrna, Georgia. Ed Voyles in Cobb County has the 2019 Kia Forte and 2020 Kia Soul in stock and in abundance for you and your teen to test drive today. Just give us a call and we'll show you why your teen is safer in a Kia.